If you plan to work in Tokyo, we also recommend looking for an apartment in Chiba area, which is adjacent to Tokyo and relatively easily accessible.
We will introduce you to major residential areas in Chiba that are no more than a 40 minute commute by train and require only a simple transfer. 
You can also access both Narita and Haneda airports within an hour respectively, making business trips and trips to your home country much easier and convenient.
Major stations in Chiba area and public transportation
We can introduce you to high-quality homes in the following areas; Chiba station, Inage station, and Inage-kaigan station ( as shown with the arrows on the map ).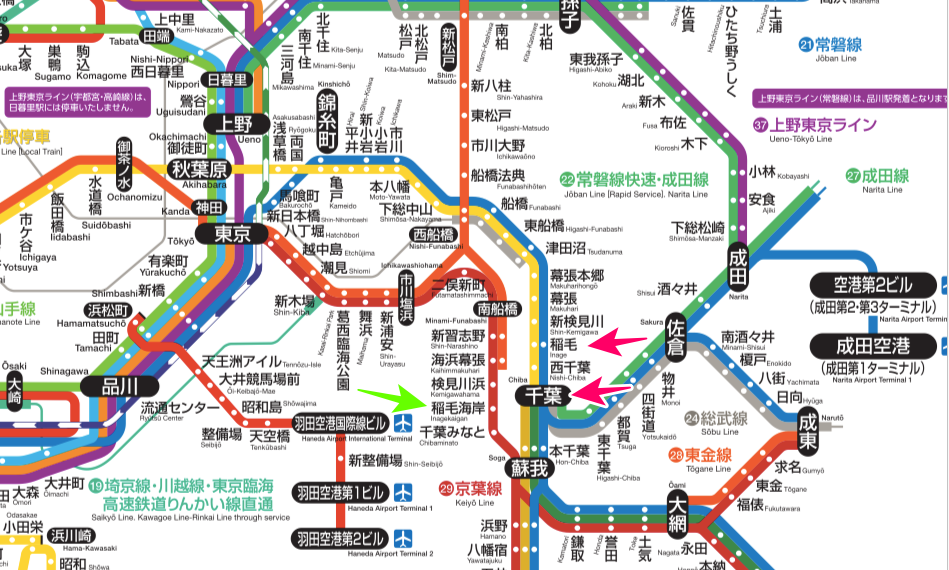 Source: JR East website
This table will show you how to get to Tokyo area from each station, along with their respective train lines.
Station
Train line to Tokyo area
Chiba
JR Sobu Rapid Line
JR Chuo Sobu Line
Inage
JR Sobu Rapid Line
JR Chuo Sobu Line
Inage-kaigan
JR Keiyo Line
Using JR Chiba and Inage station
JR Chiba, Chiba prefecture's central station, and JR Inage ( located 2 stations away from JR Chiba but towards Tokyo ) are both approximately 40 minutes away from Tokyo station via the JR Sobu Rapid line. JR Akihabara is approximately 45 minutes away via the JR Chuo or Sobu line respectively on the local trains.
A lot of families reside in or near the Chiba station area, and it is a popular commuter town. Rush hour between Chiba and Tokyo areas are around 7 to 10 am on weekdays.
JR Sobu line provides direct train services to Yokosuka lines, making travel to Shimbashi, Shinagawa and Yokohama a cinch. However, the train will mostly terminate at Tokyo during commuting time, and limiting direct services to Shimbashi, Shinagawa, and Yokohama. Therefore, transferring may be necessary during these hours.
Using JR Inage-kaigan station
You can get to Tokyo station via JR Keiyo line in approximately 35 minutes. No transfer necessary.
However, the Keiyo line will terminate at Tokyo station. So if you want to go to Akihabara, Shimbashi or Shinagawa, you will need to transfer to another line.
The train from Inage-kaigan will also be packed during rush hour. But since the Keiyo line terminates and starts at Tokyo station, you may be lucky enough to sit on the train on the trip home.
Buses operate from JR Inage-kaigan station to JR Chiba and Inage station, making it easy to use all 3 JR lines (JR Chuo line, Sobu Rapid line, and Sobu line ).
Access to airports
As mentioned earlier, you can access both Narita and Haneda airports in approximately 1 hour from all 3 stations.
Although method of transportation may vary depending on the station you use, both Narita and Haneda airports are easily reachable.
Narita Airport
From JR Chiba or Inage station, JR Sobu Rapid line offers direct services to Narita airport.
If you wish to go directly to Narita airport from JR Inage-kaigan station, we recommend using the Keisei Limousine service, especially if you have many luggage to carry.
Keisei Limousine Bus: http://www.keiseibus.co.jp/kousoku/nrt10.html
**You can select language from the drop down list shown on the top-right side of the site
Duration is approximately 1 hours. However, arrival time is subject to traffic conditions.
Haneda Airport
Haneda Airport has airport buses operating to and from JR Chiba, Inage, and Inage-kaigain stations. Duration is also approximately 1 hour from each station.
Travelling to Haneda airport from the aformentioned stations by train will require transfers. So it's best to book a seat on the Airport bus in advance.
Airport Limousine bus website: http://www.limousinebus.co.jp/areas/
For inquiries about moving to Chiba area
If you have plans to move to Japan or need help getting settled, we'd be glad to assist you. We can also help you from choosing the right apartment to assisting you with the paperwork, as well as provide support for your everyday life.
For details regarding support, refer to: our services
You can contact us via email:
If you wish to contact us via SNS, click on the LINE logo on the bottom right hand corner of your browser. We can speak Japanese and English.