We would like to introduce you to an app that can assist you during natural disasters. It also provides general information regarding what to do in case a typhoon, earthquake, floods, or volcanic eruptions occur. It's called "Safety Tips" and it's available in multipile languages.
Typhoon season occurs during summer through early autumn season. Certain typhoons can destroy buildings, cause floods, or even destroy telecommunication systems, which has a devastating impact. That is why it's important for expats to be well-prepared and know what to do when any natural disasters occur.
What kind of information is necessary?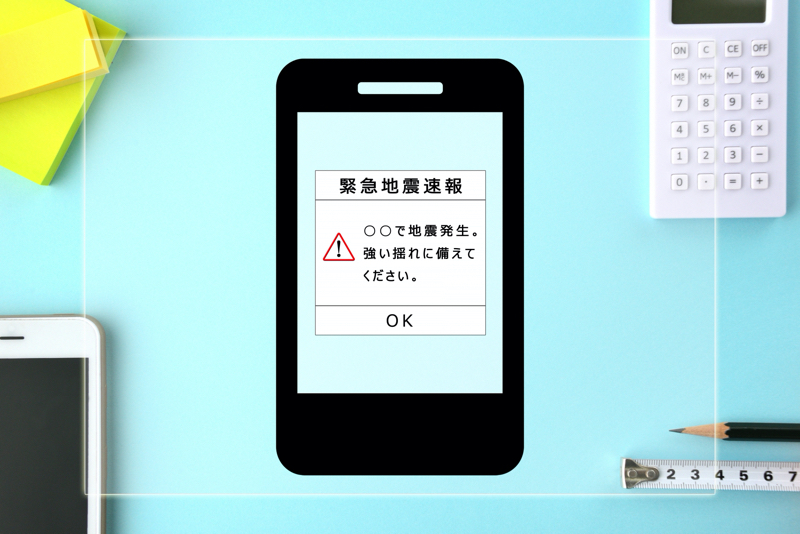 In case of any natural disasters, you will need to know the risks of your residential area, possible escape routes, and where to seek shelter. You will also need to know if there are bodies of water near you.
You can also gather information about natural disasters in Japan. But if you cannot speak or read Japanese, keep in mind that most information is provided in English, Chinese, and Korean. Some areas provide guidance in Tagalog, Spanish, Portuguese, and Thai. It is also important to be able to contact your loved ones. We will introduce you to a useful app you can use in case of such emergencies.
What is Safety tips?
Safety tips is an app that provides information in case natural disasters occur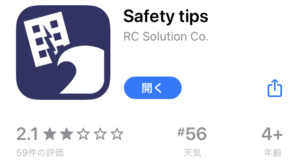 The app was originally developed for foreign tourists.
It can be used in 11 languages ( Japanese, English, Korean, Chinese ( traditional and simplified ), Spanish, Vietnamese, Portuguese, and Thai ). You can download either the iphone version or Android version.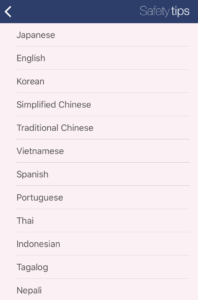 How is Safety Tips useful?
3 reasons why we recommend Safety Tips
Developed under supervision of Japan Tourism Agency
You can get in touch with your friends and family members
Access to useful links in the event of natural disasters, including foreign Embassies
You can also do a simulation on what kind of action to take by typing in what kind of natural disaster you're experiencing and your situation. It will provide a step-by-step evacuation procedure. It will also provide instructions on how to perform first aid.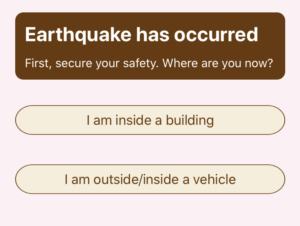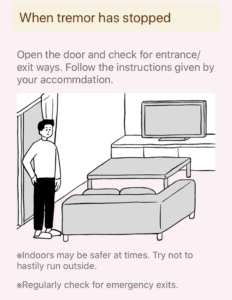 Developed by Japan Tourism Agency
Safety tips was developed by an official Japanese organization ( Japan Tourism Agency ) and provides the latest earthquake and weather related warnings. 
A lot of people tend to rely on SNS for updates. However, they can be very misleading and we do not recommend them. It's best to rely on first-hand information from a reliable source.
Contacting other users
You can use many basic phrases in multiple languages.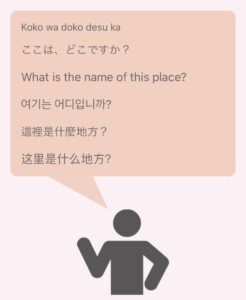 You can use a wide variety of phrases to help you through troubling times. You do not need to know any Japanese to communicate with your neighbors.
Getting in touch with your Embassy
Safety Tips doesn't only provide contact details for your nearest police station or contacting an ambulance. It also provides information about nearest hospitals that accommodates foreigners and free Wifi services that are available in case of emergencies.
Although volcanic eruptions and major earthquakes are not so common, typhoons ( late August thru early October ) and snowstorms ( January thru February ) occur seasonally throughout the year. We recommend you to keep yourself informed with the Safety Tips apps, especially during emergencies.
If you plan to move to Japan or seek assistance after settling in, please contact us
If you have plans to move to Japan or need help getting settled, we'd be glad to assist you. We can also help you from choosing the right apartment to assisting you with the paperwork, as well as provide support for your everyday life.
For details regarding support, refer to: our services
You can contact us via email:
If you wish to contact us via SNS, click on the LINE logo on the bottom right hand corner of your browser. We can speak Japanese and English.