Did you know that Japan has a unique culture of officially concluding legal papers and documents with a seal? In most  other countries, legal papers are signed with a signature but in Japan, you will need a stamp. If you are Japanese, it is not unusual to get a stamp with your family name at a 100 yen shop. But it would be different if you are a foreign national. You will need to order a stamp on your own at a store if you are a foreign national.
But there is a way to make a stamp instantly!
There are stamp vending machines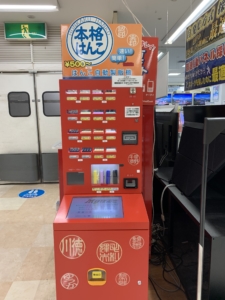 We hightly recommend these sorts of vending machines, as they can make your stamps instants and the prives are very affordable.
Prices range from 500 to 2000 yen depending on the material used for the stamps.
There is a touch panel screen that will give you step by step instructions. You can select from a variety of fonts, including thickness of letters.
You can use from a wide variety of fonts and letter styles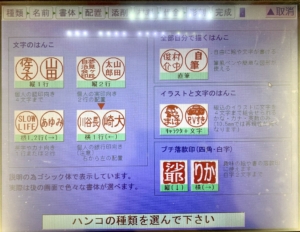 We made a stamp on our own to see what it's like. The pink case cost 600 yen. But with the custom made stamp, it cost 1100 yen altogether. It only took 10 minutes to make. It would also be great as a souvenir when you return.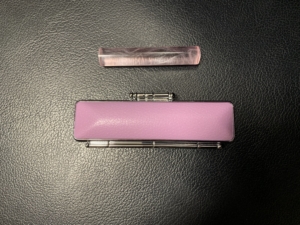 These stamp vending machines are available in Donki and Nagasakiya chain stores throughout Japan. I happened to find a similar vending machine at the 3rd floor of my local Aeon shopping center.