Many people wonder what kind of vegetarian food options Japan has. Although it's still lagging behind western countries, we are gradually seeing more and more options, with some supermarkets stocking up on non-meat alternatives, and restaurants catering to vegetarians. It's also important to note that many Japanese traditional food is vegetarian, such as natto, or tofu. As Japan has a rich seafood culture dating back to ancient times, it offers non-meat options including kelp (wakame) and seaweed. Prior to COVID-19, Japan has enjoyed a booming tourist industry, as restaurants have shifted to serving its vegetarian customers from abroad. The culinary diversity of tourists also influenced the local people, as more and more people are growing curious towards vegetarian food, as food manufacturers are opting to try something new.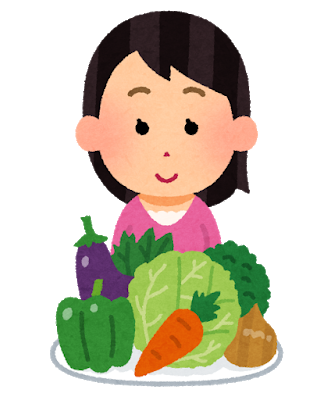 Japanese vegetarian dishes
Japan has a culinary diverse culture, ranging from regional delicacies to dishes influenced by foreign culture. With Westernization, a lot of meat-based dishes appeared in the tables of most households. But that does not mean Japan's old tradition was dying out. You will be surprised to find some options that may delight you. For starters, here are some foods you may want to be familiar with.
Nasuzuke– eggplant served with rice vinegar.
Daikon– a huge radish that can be eat chopped or grated as seasoning
Tofu– another healthy alternative made from beans
Natto– fermented beans
Tsukemono– pickled vegetables including cucumber and daikon radish
Umeboshi– fermented ume plum
Gobo– burdock, a staple food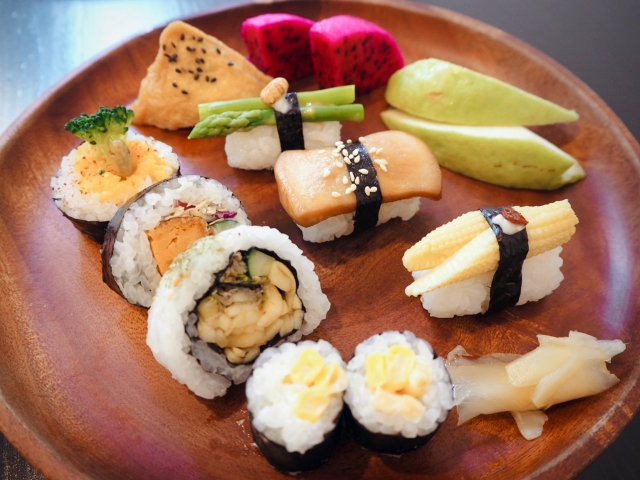 If you go to the supermarket, you may not find so much vegetarian options. Well, at least not yet. However, there are stores that sell imported food products and also cater to the expat community (such as National in Hiroo) and offer vegetarian products for a little extra. Specialty stores such as Kaldi and Gyomu Super may also offer some options that you may want to check out.
You will also come across processed food or seasoning that have a long list of ingredients written in Japanese. These can be really mind-boggling to consumers, especially if they want to restrict their dietary life. For instance, soup stock is known to contain chicken or fish.
Restaurants
As mentioned earlier, there are restaurants that serve vegetarian dishes, and we will list some examples for you. Most vegetarian restaurants are located in Tokyo, Osaka, and Nagoya. You may want to ask your local restaurant if they have any meat-free options if you can't read what's on the menu.
Veggie House (Kinshicho)
Eat More Greens (Azabu-Juban)
T's Restaurant (Jiyu-gaoka)
BiOcafe (Shibuya)
AIN SOPH. ripple (Shinjuku)
AIN SOPH. soar (Ikebukuro)
Alaska Zwei (Nakameguro)
Hanadarosso (Harajuku)
Bojun Tomiyaga (Yoyogi-koen)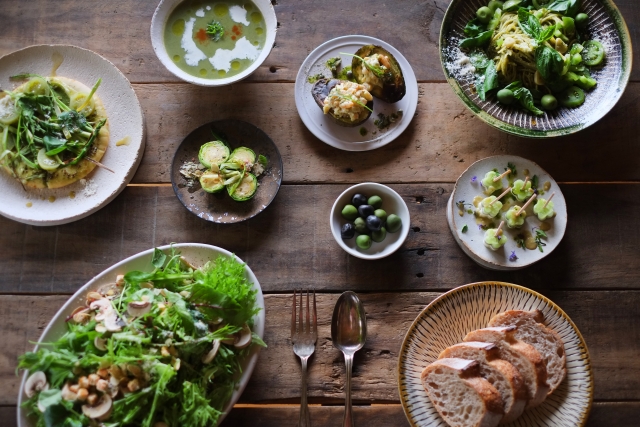 Also, Japan has many Indian restaurants that serve vegetarian curry, which is pretty common back in India. There are also Taiwanese restaurants that serve similar kinds of food, as Taiwan has its share of vegetarians. Taiwanese food may sound similar to mainstream Chinese food, but the culinary experience is far different. Don't be afraid to ask them if they have any of these options.
How the food scene is changing
We've seen tapioca becoming a trend in Japan. And now we see burger shops introducing soy meat burgers to their menus. The local burger joint, Freshness Burger has vegan burger on their menu. The cafe joint Doutor also has something similar. I'm not sure if they still exist on their respective menus, but at least we all know it's becoming more available to the public, not to mention spur competition from its competitors. This will further open up its market share. There was a time when karaage type soy meat was advertised on a train in Tokyo. They can also be purchased online, albeit for quite a price. And not many of these online shops offer English language assistance. Although Japanese society is very conservative and tends to resist change, the culinary world is not so, as we've seen Kosher and Halal food options as well.
If you plan to move to Japan or seek assistance after settling in, please contact us
If you have plans to move to Japan or need help getting settled, we'd be glad to assist you. We can also help you from choosing the right apartment to assisting you with the paperwork, as well as provide support for your everyday life.
For details regarding support, refer to: our services
You can contact us via email:
If you wish to contact us via SNS, click on the LINE logo on the bottom right hand corner of your browser. We can speak Japanese and English.