As everybody hopes the COVID-19 pandemic will end someday, people are encouraged to work at home during the weekdays and only go to the office once a week. And instead of going out on the weekends, many people stay indoors and cook, watch Netflix or Amazon Prime, play video games, read books, or even chat with their friends. And a lot of people will do most of their shopping online, instead of braving the crowds or take the train to go to the next city to visit the mall. But you'll notice that the more you spend time at home, the more things you'll have lying around in the house. Oh, and do you ever wonder how you can use your space efficiently? As you know that Japanese homes are relatively small, using space efficiently can be quite a challenge for many people. But with some tricks and some space saving items, you can keep your room neat and tidy. Most of the items are sold at hardware stores such as Nitori or Iris Oyama, both of which also have online stores. MUJI is also a popular brand with their stylish designs.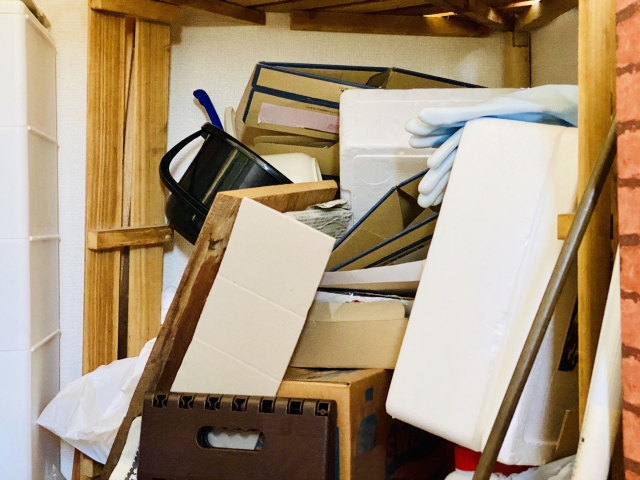 Space in the kitchen
Other than the cupboard and the space under the sink, there is a lot of space you can use to put cooking utensils and spices. For people who often prepare their own meals, it would be idea to have a lot of stuff placed in racks or hanging in front of you, instead of being put away in drawers or inside the cupboard. Not only would it be space saving, but also time saving. A dishrack over the sink would be very nice option. How about a towel holder right under the cupboard? Well we've got some ideas to help spice up your kitchen.
Dish rack
This can be installed between your kitchen counter and cupboard using a pair of poles. It's pretty sturdy and can withstand quite a lot of weight. Perfect for drying your dishes after washing them. Depending on the size and capacity, they cost about 3,500 to 8,000. We recommend you to check out your local hardware store instead of purchasing them online. Sling S-shaped hooks to them and you'll be able to hang more items on them!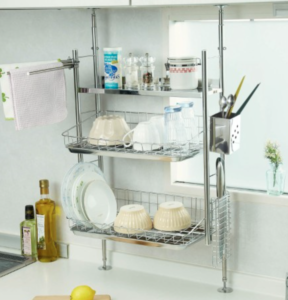 Towel holder
Having a towel or dish cloth hanging above your head can be very convenient if placed in the right place. You can attach this towel holder to your cupboard with a clamp. All you need to do is measure the thickness and depth of the cupboard. Other than towels and rags, you can also hang some kitchen utensils on them, so long they're not too heavy. They can be purchased easily at even some supermarkets for about 1,000 yen.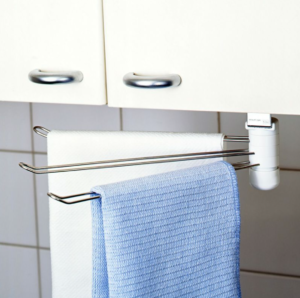 Spice rack
Well, they don't necessarily live up to their namesake, depending on how you use them. But you can place a wide variety of items on them. A popular kitchen item that can hold a lot but take up very little space. You can also sling S-shaped hooks to them to hang more items. Price range: 3,000 to 6,000, depending on size and capacity.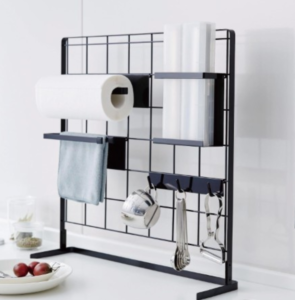 Washroom and toilet
If you have a separate washroom and toilet, you may find some space that you can use. Look above your washing machine or toilet. If you don't have an overhead cabinet, you can surely install a rack between the walls. Your shower room may also have some space to spare.
Pole shelf
A popular item for storing towels, detergents, or even hanging a bottle of Febreze. Get some trays for sorting your items. Price is 1,000 to 2,000 yen and can be found in most hardware stores.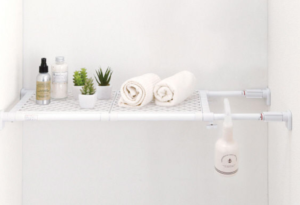 Shampoo rack
Some shower rooms don't have any racks or shelves to place your shampoo or conditioner. And these can be very handy and easy to install. Price: 4,280 yen.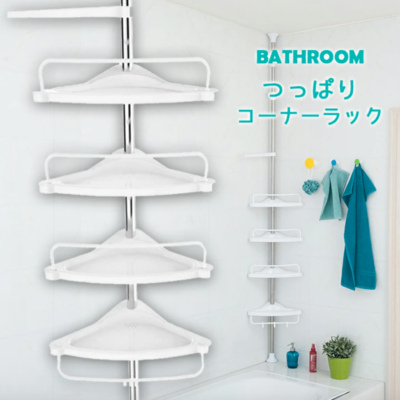 Living room and bedroom
Other than your dresser or shelf, you can use racks and shelves that use poles. They're not as clunky as other furniture but very functional and stylish. Some of them can be customized to use a combination of shelves and a clothes hanger. You can also get creative with how to use them, as they're more easily adjustable than wooden shelves, not to mention sling hooks to them hang more stuff.
Your closet is also a place to test your wisdom. You can sort and utilize space effectively by using stackable plastic cases or drawers. Placing a pole between the closet walls is also a great idea for hanging your clothes.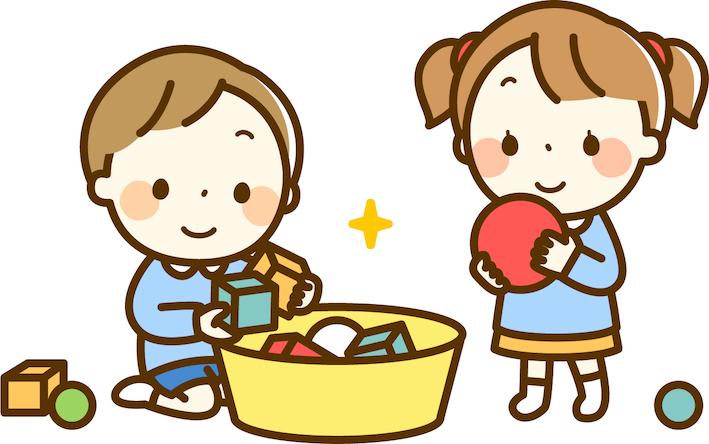 Pole shelf
These not only save space, but also add a touch to your interior. They're also highly functional and convenient to use. If you don't have a car, ask the staff at the store if they deliver. Otherwise, you can purchase something similar online. Ask a Japanese friend for some help. Prices start from 8,000 yen.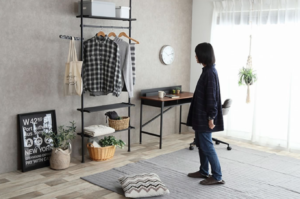 Conclusion
We hope this article gives you an idea of how to organize your home. There is a lot of space in your home that you can use efficiently without making your place look so cluttered. In fact, many people end up using less than half the space of their closets when they can install racks or shelves in them to increase capacity.
Some people think about buying shelf kits for their walls. But some of these kits require drilling holes into your wall, which your landlord might frown upon, not to mention charging you with a hefty repair fee when you move out. We really don't recommend them, as most of the walls are made of plaster and they can't withstand so much weight.
A trip to your local hardware store would give you ideas. Of course, the Internet is also a great way to see what they have for offer. Don't buy anything yet unless you're 100% sure it'll fit properly.
If you plan to move to Japan or seek assistance after settling in, please contact us
If you have plans to move to Japan or need help getting settled, we'd be glad to assist you. We can also help you from choosing the right apartment to assisting you with the paperwork, as well as provide support for your everyday life.
For details regarding support, refer to our services
You can contact us via email:
If you wish to contact us via SNS, click on the Facebook logo on the bottom right hand corner of your browser. It will take you to our Facebook page, where a messenger window will show up on the bottom right hand side of the screen. We can speak Japanese and English.