In Japan, we have different methods of garbage disposal depending on city, town or village. This is due to the different environmental measures implemented by each municipality.
We ( for details about us, please see this page ) understand how complicated and confusing garbage disposal rules are for our clients living in Japan, including Japanese people. Your apartment may impose additional rules relating to garbage disposal, making things even more confusing.
If you are planning a long-term stay, it would be important to obey local garbage disposal laws and follow all rules imposed by your apartment. Failure to conform to these rules will result in eviction and termination of contract.
In this article, we will go into details regarding Japanese garbage separation rules. We will also explain why these rules in Japan can be difficult.
There is an urgent need to reduce garbage in Japan
Japan is facing a major issue relating to waste management in recent years. According to one theory, dumping sites in Japan will reach their capacity in next 20 years.
Garbage from ordinary households in Japan is handled in the following three ways.
Garbage will be incinerated and its ashes buried
Garbage will be buried without be incinerated
Recycled
Do you know which method is widely used?
Of these three methods, 90% of household garbage were disposed of using method 1 and 2.
That is why waste management needs to be changed in Japan. Due to the limited land, we are running low on landfills. And in order to reduce garbage, each individual living in Japan must obey garbage disposal rules.
What happens if you DO NOT follow the garbage disposal rules in Japan?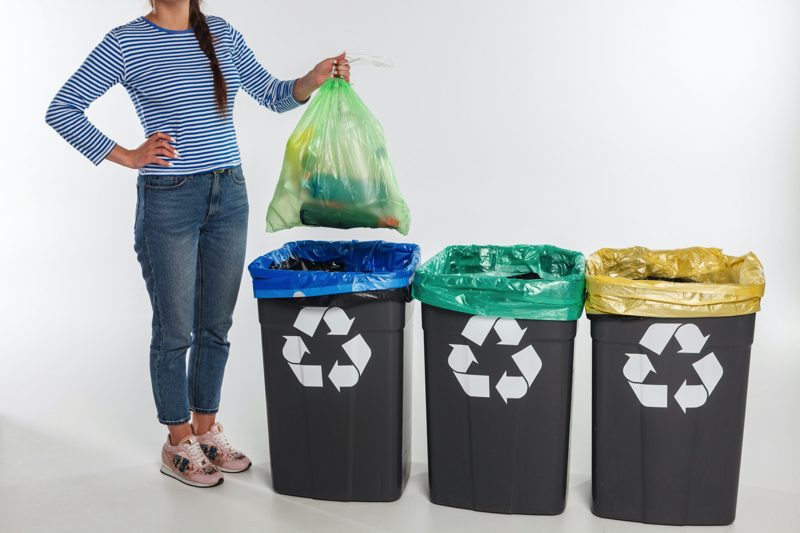 Are there any penalties if people DO NOT follow the garbage disposal rules in your living area?
The answer is NO.
There is no legal penalty even if you don't follow these rules. However, you will get complaints from fellow residents or the apartment's management.
Most apartments or houses have shared garbage disposal areas in or near the premises. If a resident breaks any rules, sanitation workers will not collect them. In worst cases, the garbage may be opened by a sanitation engineer or the owner of a rented house, which may give away the identity of the garbage owner.
There is a lot of identifiable information in households garbage. They can find out who the garbage belongs to and issue a warning.
If these things keep happening repeatedly, the owner may cancel the rental agreement against the renter's will.
Garbage disposal rules
So how should you separate and disposal your garbage when you live in Japan?
There are garbage disposal rules in cities, towns or villages. Remember to observe these rules which are shown below.
Here is a typical garbage disposal rule.  The garbage is separated in 4 categories.
'Burnable'(燃えるゴミ), 'non-burnable(不燃ごみ)', 'recyclable(資源ごみ)' and 'large garbage(粗大ごみ)' :
| | |
| --- | --- |
| Burnable(燃えるゴミ) | paper waste, clothing, diapers, cooking oil, etc. |
| non-burnable(不燃ごみ) | small metal waste (e.g., frying pan, umbrella frame) , lighter, ceramics, glass, spray can, LED bulb, etc. |
| recyclables(資源ごみ) | newspapers, magazines, cardboard, cans, glass bottles, plastic bottles, etc. |
| Large garbage(粗大ごみ) | home appliances, furniture, bicycles, etc. |
Large garbage is basically any kind of waste whose dimensions exceed 30 cm in length and requires a fee for disposal. Fees may vary from item to item, and you cannot dispose of them like other conventional garbage. You will be required to call your local sanitation office and make a reservation for pickup.
Why do foreigners say it is difficult to separate garbage in Japan?
Many foreigners find it difficult to separate garbage when they move to Japan from another country.
We think there are three reasons why it is difficult to separate garbage in Japan.
 The days of the week will vary depending on the type of garbage
Depending on your city of residence, separation method may differs
Rules on disposal ( location of common disposal area ) may vary depending on the property you live in
Each will be explained in detail.
Garbage separation rules differ depending on the your area
The first reason that Japanese garbage separation is difficult is that the garbage separation rules are slightly different depending on the area you live.
The reason for the different rules for garbage collection in each region is due to the Japanese law that municipalities have rules for collecting garbage.
In addition, the size, capacity, and performance of incinerators in each municipality may differ, making it necessary to change some of the rules to keep up with demand.
How different are the garbage disposal rules from municipality to municipality?
For example, at Shibuya-ku in Tokyo, plastic items are classified as burnable garbage.(Reference>>Separation, how to put out resources and garbage (English version))
However, at Matsudo City in Chiba Prefecture, plastic items are classified under 2 types. (Reference>>Garbage separation rules in Matsudo City (foreign language))
Recyclable plastics
Other plastics
These two plastic garbages will have different collection dates, so it's best to check their respective collection dates.
As mentioned above, the rules are different depending on where you plan to move. In fact, there are certain cities that require residents to use specific garbage bags for disposal. So we ask customers to check the garbage separation rules on the city's homepage in advance.
The rules of how to throw it away depend on the property you live in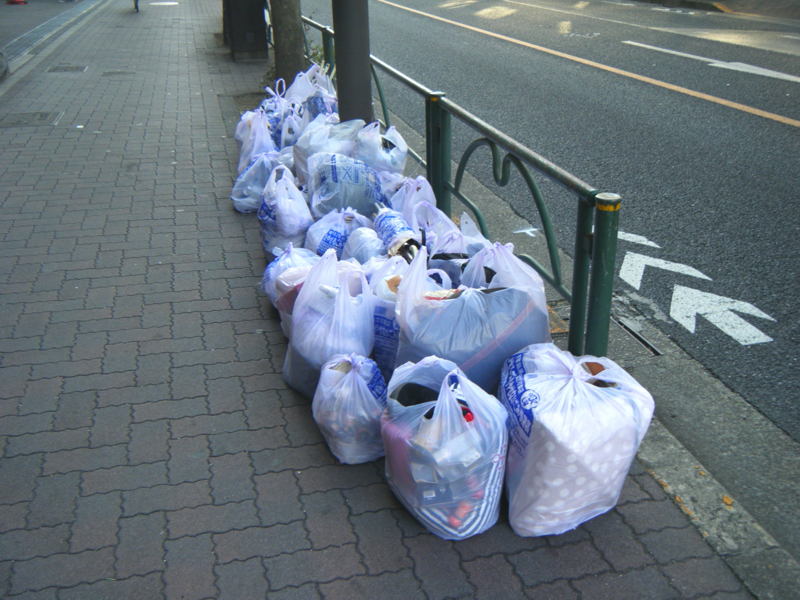 Another issue relating to garbage disposal is the location of common disposal areas, which may vary depending on whether you live in an apartment or a house.
[ APARTMENTS ]
There are garbage disposal areas on the first floor, basement or in front of the apartment complex. All apartment residents use the same disposal area. In case the disposal area is outdoors, the garbage will usually be covered with a a net to avoid being vandalized by crow or cats.
In some apartments, residents can leave garbage on the disposal area any time they wish. However, please note that garbage separation must be done properly.
[ HOUSES ]
There will be collection areas located near the house. Residents must take their garbage to a shared collection area on the date of collection. For hygiene purposes, they may not bring trash on the previous day.
The collection date will differ, depending on the type of trash. Burnable trash is usually collected twice a week, whereas recyclable garbage, unburnable garbage or plastic will be collected only once a week.
If residents want to use a shared garbage collection area, they must follow the local rules for garbage disposal.
If you plan to move to Japan or seek assistance after settling down, we are at your service.
If you have plans to move to Japan or need help getting settled, we'd be glad to assist you. We can also help you from choosing the right apartment to assisting you with the paperwork, as well as provide support for your everyday life.
For details regarding support, refer to: our services
You can contact us via email:
If you wish to contact us via SNS, click on the LINE logo on the bottom right hand corner of your browser. We can speak Japanese and English.