Japan is famous for its public baths. You will find them everywhere in Japan, even in the residential areas of Tokyo. Some foreigners wonder why people use public baths when Japanese homes are already have bathrooms. But most people love to experience something different for a change, and using public baths or eating out is no exception. Some of these public baths have saunas or use hot spring water, which are common in Japan. Japan is an island made up of volcanoes, and they also produce hot springs, which can be found anywhere in Japan.
There were records of public baths dating back to the 11th or 12th century in Japan. But they actually became accessible to the public in the early 17th century, or the start of the Edo era. Personal hygiene has been on the minds of the Japanese public for centuries, and people will occasionally visit public baths instead of using their bathrooms. Admission can range from 600 to 1200 for a bath. Some places provide towels for an extra fee. We recommend you bring your own.
Using the public baths
Many public bath facilities have their distinct features. Old-fashioned Japanese building with tall chimneys or curtain-like drapes hanging by the entrance. Some are hard to recognize, especially if the facilities are relatively new and adapt modern designs. But most will sport a Chinese character meaning hot water, or "湯". It would be best to do some research on the Internet or ask your expat friends or co-workers.
When you enter a public bath, you will see a shoe locker and a reception counter near the entrance. Go to the shoe locker and lock your shoes. Now go to the reception and pay admission. The staff will tell you where the bathing areas are. You will see a bathing areas draped with blue or red curtains. Men enter the room with blue curtain, and women must enter the room with red curtain. You will often see Chinese chracters on these colored curtains, "男" for men, and "女" for women. Once you're inside, you will see a dressing area with lockers and several wash basins.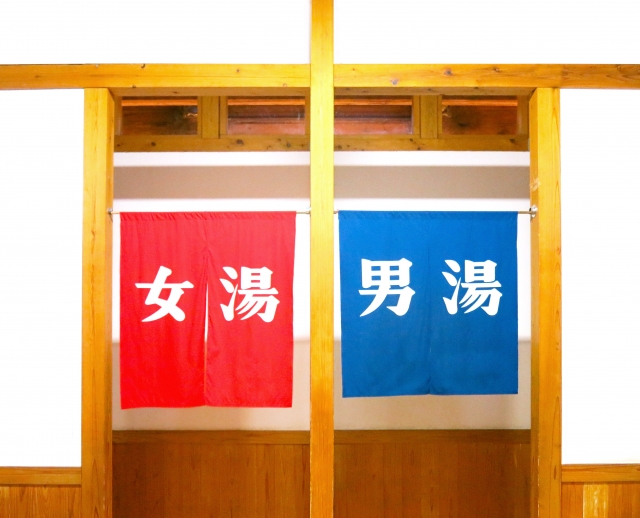 Undress and put all your belongings in the locker. Don't forget to lock it and strap it on your wrist. Now enter the bathing area and go to the washing stalls near you to cleanse and refresh yourself. There are even shower stalls. Shampoo and body soap are usually provided. Other than baths, some places offer saunas, cold water baths, outdoor bathing areas, or even jacuzzis. Everything else should be self-explanatory.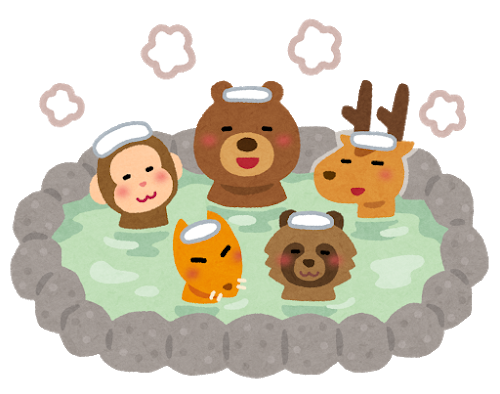 Manners
Do
*use the lockers and bring the key into the bath with you
*cover any tattoos, as they're frowned upon in Japanese society
*wash yourself at the stalls before taking a dip in the baths
*use the plastic pans to pour water over yourself.
Don't
*chat out loud with your friends and co-workers. It's considered rude, and since COVID is still prevalent in Japan, the rule is clear………..
*don't wash your laundry. Use a laundromat instead
*don't use the baths while under the influence
*don't wash yourself in the baths
*don't jump into the baths. They're not swimming pools
*don't leave trash lying around. Clean up after you finish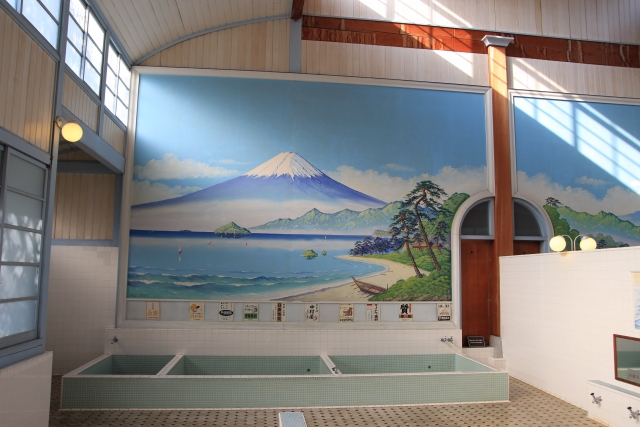 Onsen
Onsen are hot springs, and they're not as common is regular public baths, as use water heated from volcanic sources. Most people think onsen are only located in or near tourist attractions. But you will also find them in your neighborhood. Admission can be slightly pricier than ordinary public baths. Onsen have many beneficial effects on the body, and the water can contain nutrients that have healing qualities. Many onsen have outdoor baths, and taking a dip in cold weather is also said to be beneficial to heath.
If you find a local public bath
At lot of expats enjoy living in Japan like the locals and even frequent public baths. Who cares about sticking to your showeroom, just because you have one? Sometimes a change is important. It's also a great way to enjoy everyday life while you are in Japan. We hope you find a good public bath or onsen near you. If you have any expats friends, they may love this new experience themselves.
If you plan to move to Japan or seek assistance after settling in, please contact us
If you have plans to move to Japan or need help getting settled, we'd be glad to assist you. We can also help you from choosing the right apartment to assisting you with the paperwork, as well as provide support for your everyday life.
For details regarding support, refer to: our services
You can contact us via email:
If you wish to contact us via SNS, click on the LINE logo on the bottom right hand corner of your browser. We can speak Japanese and English.